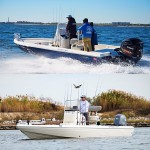 Invest in your angling future for $600!
"Why would you fish with anyone else?" Redfish University is a unique and unparalleled opportunity to learn the secrets and art of shallow water angling from an experienced and accomplished professional angler. Redfish University offers the best rates on the Gulf Coast. The BEST product at the BEST price.
The opportunity for one-on-one instruction, question and answer opportunity and state-of-the-art shallow water angling techniques.
ALL EQUIPMENT IS CURRENT YEAR! First-class all the way! Redfish University offers the highest level and the very latest in saltwater angling equipment including current year Skeeter SX220, SX230 and SX240 Boats, current year Yamaha Outboards, current year Penn Clash, Battle II and Conflict reels, current year Penn Battalion, Regiment and Battle II rods, brand new Berkley Gulp! Baits, new Oakley Sunglasses and new Patagonia raingear. All products are current year!!
The ability to apply the knowledge gained to your own angling adventures and be a more successful, smarter and efficient angler. Learn to catch redfish, speckled trout, pompano and flounder with confidence. Use this fantastic experience to teach your children about the exciting sport of fishing. Impress your friends and family with your huge bounties of fish!