Chasing Trout and Redfish in my new Pathfinder 2300 HPS
Capt. Eric Holstman
July 7, 2012
Pensacola – Saltwater Fishing Report
Chasing Trout and Redfish in my new Pathfinder 2300 HPS
By Eric Holstman
Yamaha Pro Staff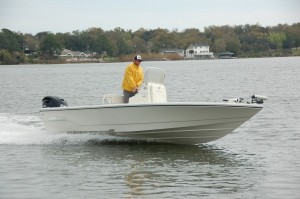 With a 250 h.p. Yamaha VMAX SHO four stroke, I can cruise at 4,000 rpm and get around 3.5 mpg.
June is a time of the year when I'm on the water early, running in the twilight and fishing until mid-morning, then off the water in the heat of the day. There's a great window from dawn until about 10 a.m. or so where the water temperature has cooled all night and the fish are comfortable and active.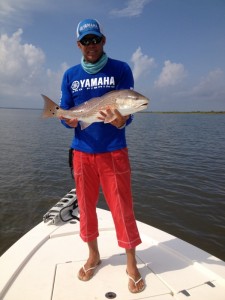 I start my day at about 5 a.m., make a long run in the dark so that I can catch the dawn topwater bite. This time of the year I like to look for the big schools of mullet, because the trout and redfish like to work the edges of the schools feeding on the shrimp and minnows the mullet kick up as they dig around the bottom. I can count on 30 to 50 trout a morning and 8 to 10 redfish. Most of the trout are fairly close to the banks, which is nice because that's the same area that the redfish like to range.
Then around 7:30 we'll switch over to fishing jigheads with soft plastic jerkbaits, concentrating on marshy points and the occasional boat dock. With the big trout spawning right now, I've been concentrating on oyster bars in 8 to 12 feet of water, particularly if the tide is bad. We can usually catch a bunch of nice trout in the deeper water, but you don't find a lot of reds there.
Around 9:30 or so, I start moving to the deeper areas with stumps and rocks where I can usually get a good trout or redfish to bite along the bank. There's usually two or three of those places I hit every morning.
I recently switched boats. For the last four years I've been running a Hewes 21′ Redfisher, and this year I switched over to a different Maverick Boat Company product—the Pathfinder 2300 HPS. Both boats were rigged with 250 h.p. Yamaha VMAX SHO four stroke outboards, and I just love that engine. I couldn't imagine running another motor after experiencing the holeshot, torque, mid-range and top end speed of that motor, along with the reliability and fuel economy. It's just the perfect package.
The Pathfinder 2300 HPS has a step hull, so it rides extremely well in rough or calm water, and it's a little wider than my 21′ Redfisher, but drafts the same amount of water. What I really like about it is the ability to fish three anglers a bit more comfortably. You really don't realize how much difference two feet makes until you have "almost" enough room for everyone to fish.
I'm running the 15 X 23 four blade HS4 "High Seas" Yamaha Prop, which is the same prop on the Performance Bulletin Yamaha put out for this boat/motor combination. I'm running around 4,000 rpm and getting 43 mph while averaging 3.5 miles per gallon, which is pretty impressive for such a large boat.
Any time you have a new boat you're looking to prop or get an idea if you're getting the performance you should be, you can go to the Yamaha website at www.yamaha-motor.com and view the Performance Bulletins for a lot of different boat and motor combinations. Yamaha technicians work with a bunch of different boat manufacturers to put together boat/motor/prop combinations to produce the best performance possible. You can view these Performance Bulletins on the Yamaha site and get an idea exactly what prop they're running, as well as the speed and fuel economy performances ranges in 500 rpm increments.
I'm probably running 25 miles on my average trip and burning six gallons of gas, putting in at East Bay and running north towards Pensacola, Florida. I do a lot of jumping around and making calculated boat runs, eventually hitting nine to twelve spots a morning. The four blade prop really helps the boat jump up onto plane in the really shallow water, and it also decreases the cavitation in high speed turns. A four blade prop isn't as fast as a three blade prop, because there's more friction in the water from the extra blade, but what you lose in speed you pick up in control.
What I like about the bigger bay boat is the extra comfort when running in a chop or with a side wind. The wider gunwales keep the spray from blowing over the side and onto the angler on the windward side of the boat when we're running, and it's just a nicer boat to run when the weather takes a turn for the worse. So while I do miss my 21′ Hewes Redfisher, I really am enjoying the comfort and performance of the Pathfinder 2300 HPS with 250 h.p. Yamaha VMAX SHO four stroke.